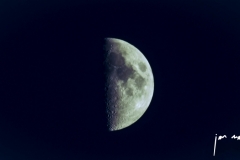 For my birthday I received a Leica 100mm-400mm lens (although it didn't arrive until last week!)
The first thing I thought to shoot was the moon. 31st July is a quarter moon.
I found myself in the garden of the Norwegian Seaman's Church in Rotherhithe at a friend's BBQ and the conditions were near perfect. Out came the tripod, GH5 and 100mm-400mm lens. Having already consumed a fair amount of alcohol during the day / evening I wasn't sure how wise this whole venture was going to be, but when the shot is there it needs to be taken! 🙂
I spent about 2 hours taking various shots between dusk and midnight and the best of those shots (slightly modified in Lightroom) can be found in my Moon Shots section of the Gallery.
I hope you enjoy!